© 2012 your very own website
Custom built guitars, parts and repairs
I am in the process of designing a new Hybrid model (SH4). The basic concept is a model similar to the Green SH1CT pictured below with slightly more retro cutaway horns and a new design adjustable acoustic bridge. All of this with a "Black" color theme. Make the vast majority of the finish, hardware etc. black. Slightly rounded edges at the top / side junction, no binding, all black, with one or two tasteful accents. Through the years I have had many requests to duplicate the sound and versatility of my '83 Kubicki Tele. This should do that. The magnetic pickups will be done in a very similar way. The sustain will be somewhat better than any tele just because of the through neck, and the thing my '83 Kubicki doesn't have is an LR Baggs Element acoustic section which will allow either separate or simultaneous use of either the acoustic or electric pick up sections. I've included a pick below of a mock template and 2 other of my hybrids for comparison.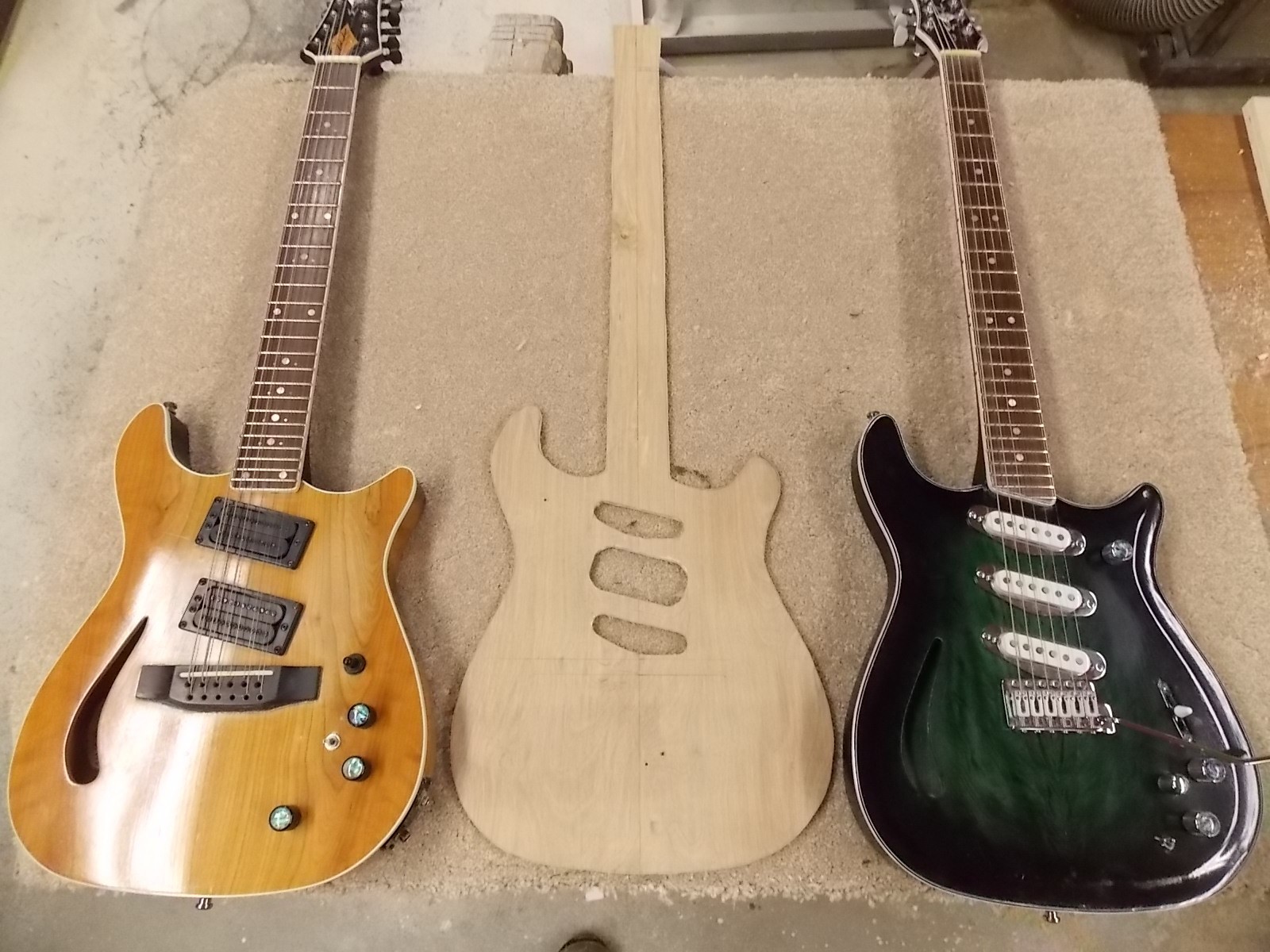 The guitar on the left is one of my original Hybrids with a typical acoustic bridge. On the right is an SH1 with an LR Baggs X bridge. The template in the middle has a slightly more retro horn design with a little more return toward the neck and will have a newly designed acoustic bridge that will be best described as a cross between a flat top bridge like the one shown here and an arched top bridge. It will not have "peg holes" and will be adjustable with positive stops for simpler intonation.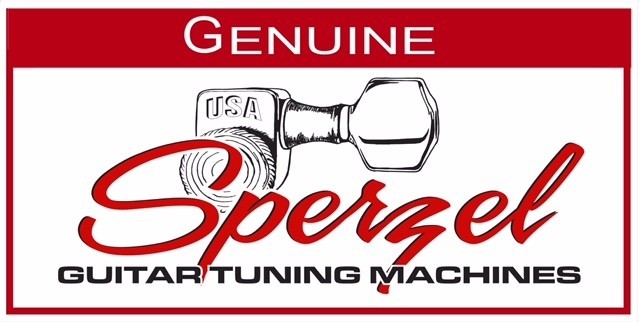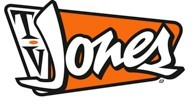 "Double O Blackbird" Semi Hollow Body Hybrid Guitar

Here is the "Double O Blackbird" prototype progress since I put up the posts toward the bottom of the page, now complete, all set up and sounds great! This Prototype opens a new potential of possibilities for my guitar building, combining artwork and super playing, versatile sounding, guitar built with re-purposed material. It has all the tonal capability of my custom made '83 Kubicki Tele, plus the advantage of being a hybrid with acoustic sound output as well. It is a prototype, the first of it's kind. I will take what I've learned building it to improve this model even further.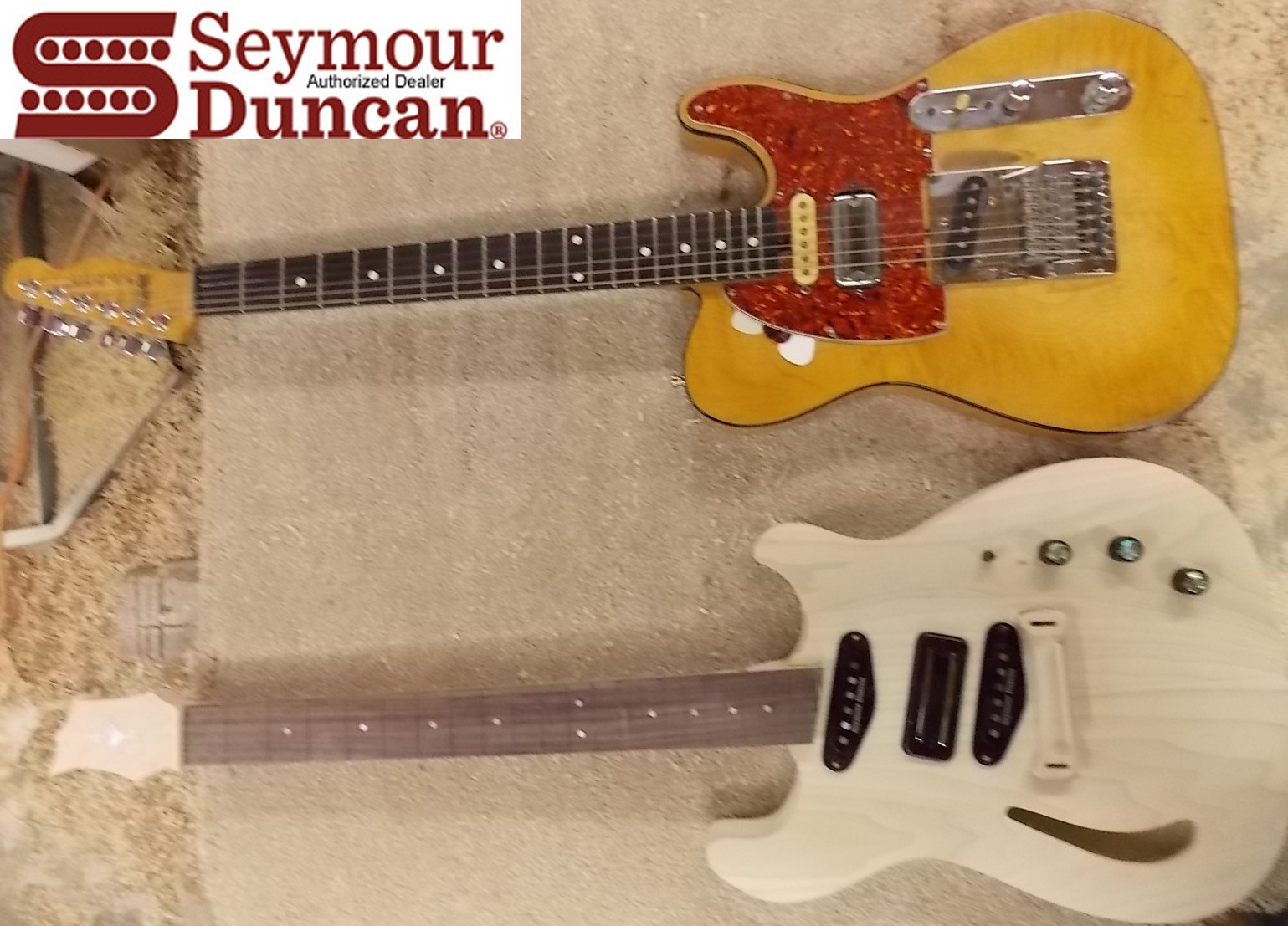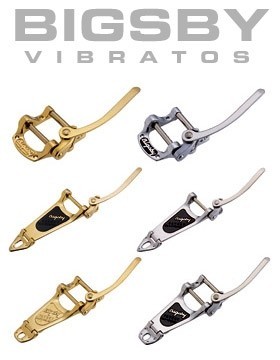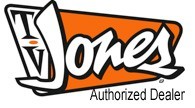 The Black bird with full base of black, 3 coats black stain, 6 coats of sanding sealer, and 15 coats of black lacquer. Hardware is fitted, frets are in and dressed. Now for the trip to local artist Ben Ellcome who will bring out the bird in it prior to the final 25 coats of clear gloss lacquer! I've always been a fan of the arts in general so being able to add professional art work to one of my guitars is a really special thing that I hope we'll be seeing more of!

The Blackbird Charity Auction This guitar was auctioned off for the benefit of a fundraiser, for a friend, and local high school teacher Mr. Ron Rounds, who has been diagnosed with ALS. A group of his friends and colleagues planned a day of Live Music for March 19th at the Mishnock Barn in West Greenwich RI. All the proceeds went to the fundraiser for Ron;

A rousing success! Great job to all involved and special thanks to the Mishnock Barn for their generosity and to there sound and stage crew who did an awesome job for all the musicians involved.

Hybrid Specs: Scale length 25-1/2", 23-1/2 frets, 3 piece maple neck through body 16" radius. Pearl in layed headstock, Sperzel trim lock tuning machines. Neck width at nut 1-3/4" width at 12th fret 2". Body material clear poplar. Bridge material hard maple, Micarta/bone laminated 1/8"saddle, machine thread hold down bolts with machine thread location adjustment for intonation. Initial Setup: string action, High E 1st fret .011", 12th fret .078", Low E 1st fret .028", 12th fret .082". (please note that these figures can change somewhat with changes in humidity etc.) Strings: D'Addario EXL 110. Magnetic system:Bridge pickup custom wound Seymour Duncan stack on Strat body to match Kubicki shown below 17.3K. Middle pickup TV Jones Supertron again matches Kubicki as does the neck pickup which is a Seymour Duncan Classic Strat plus STK-N4. Volume and tone pots Are 250K CTS, with black solid brass knurled knobs with Abalone top. Five position Strat style pickup selector. Volume pot has a vintage Tele style .001 treble boost cap which allows you to turn volume down about 25% with minimum loss of tone. Acoustic system: LR Baggs Element under saddle active pickup with volume control and Pre-amp. 25K alpha volume pot, with black solid brass knurled knob with Abalone top. Three way DPDT mini switch selects electric only / acoustic & electric combined / acoustic only. Output 2 - 1/4" jacks, one for electric one for acoustic. Systems are isolated helps prevent unwanted noises. Semi hollow body thickness 1-13/16".