Award Winning Design
This Guitar won the award for best design at the first annual "Guitar Expo" at Main Street Music in East Greenwich RI Oct. 26 through the 28th, 2012. An honor, to say the least, since besides other custom guitars there were "Icon" Gibson and Fender guitars on display as well.
It is a resonator style, semi hollow acoustic electric guitar. (our model # SH2 RESO AE6) It uses a Beard, National style resonator cone, with a Fishman biscuit style Bluegrass Transducer under the biscuit bridge and a Carvin C-22J magnetic pickup in the neck position. A Fishman "Powerchip" on board preamp acts as a volume control for the acoustic section and buffer and combiner for the acoustic / magnetic setup. Signals are sent separately to a stereo output where they can be sent out mono, with the signals mixed to one amp or sent separately to an acoustic and an electric amp simultaneously. The body is only 1-3/8" thick. The neck is a bolt on with 3 way adjustable pitch angle, allowing the neck to be "pivoted" side to side or up and down giving a convenient method of adjusting action without taking tension off the biscuit, saddle, and cone. Rear sound holes give substantial acoustic volume. The purpose of the design is to minimize the feed back inherent in conventional resonators at stage volume, particularly where stage monitors are used.
Although personally I use this most commonly in guitar tuning, it can be tuned to open G or E. I use 80/20 bronze strings .012" to .054". Perhaps the most amazing thing is that the acoustic volume is comparable to most acoustic guitars. During a demonstration at the Guitar Expo I played with 2 acoustic guitars for some time without plugging in, and was still being heard. When plugged into 2 amps, you can for example, play both acoustic and electric outputs with the electric running through the overdrive channel in the amp while the acoustic is going out clean to a PA channel or acoustic amp. I do an arrangement similar to Skynyrd's version of "T for Texas" using both slide and conventional playing with this type of amp set up with amazing results.
© 2012 your very own website
12 string
This is a 12 string version of my SH-1 (semi hollow style 1) Controls are basically the same as the butternut 6 string shown above. The magnetic pickups are Carvin C-22J in the neck position and C22-B in the bridge position. An LR Baggs Element is used for the acoustic side. This one uses 500k pots on the electric side with .22mf cap for a somewhat brighter sound. As with all of these guitars up to this point it has 24 frets and a 25" scale. This one has a 14" radius fretboard, just because it's my personal preference for a 12 string. The neck is three a piece type made of scrap maple, again from our kitchen cabinet shop. The body and top are made of Choke cherry from a tree that was cut to make room for a house we built 18 years ago. After I made the furniture from it the owners ordered, this wood was left over. You'll notice this bridges is fixed acoustic type.
Tuning Machines are Sperzel locking models used on all my guitars unless another brand or type is specifically requested. Finish is Nitro-cellulose lacquer.
Model SH2 RESO AE 6
National style resonator guitar. Shape is of a 1933 El Trovedor with added cutaway. Sides are black walnut, top and back are Sepele Mahogany, back has maple / walnut / maple strip. Binding is Maple / black walnut / Maple. Neck is bolt on, 3 way adjustable, Mahogany, 2 piece (4 piece including headstock wings). Inlay is mother of pearl. Electronics consist of passive Carvin C22J w/ 500K tone and vol. pots. Finish is HB 7000 water based lacquer.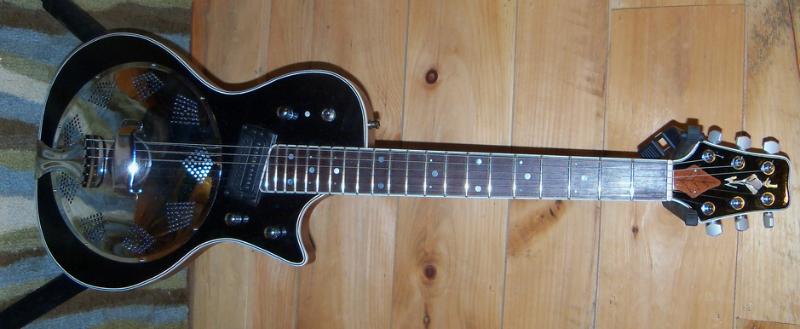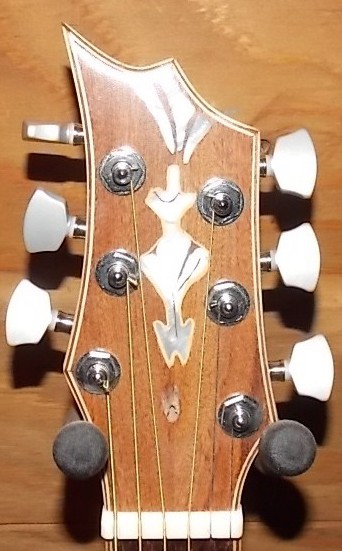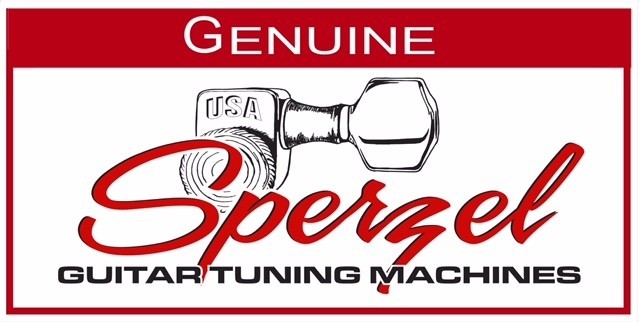 Click an icon above to see that company's products